There's No Place Like Home
There's No Place Like Home was citywide folly celebrating home stewardship. The six-week journey began in October 2012, when a 13' tall blue Victorian house took to the streets for a series of adventures featuring a family of singing bears and a merriment of Gnomes. The piece was equal parts educational and celebratory, and through story, sweets, and interactive elements, the work invited the whole family to reconsider its energy usage. There's No Place Like Home explored values of stewardship, nurturance, and care for home and planet. Migrating across Seattle's highways, byways, and bridges, the work warmly reminded audiences of the importance of tending to what we all need most—home.
There's No Place Like Home was the first piece of ephemeral art commissioned by the City of Seattle's 1 Percent for Art Program. As artist-in-residence for the City of Seattle, Neare collaborated with the Mayor's Office of Arts and Cultural Affairs, Seattle City Light, and Community Power Works. Over six weeks of performances, more than 20,000 people experienced this work.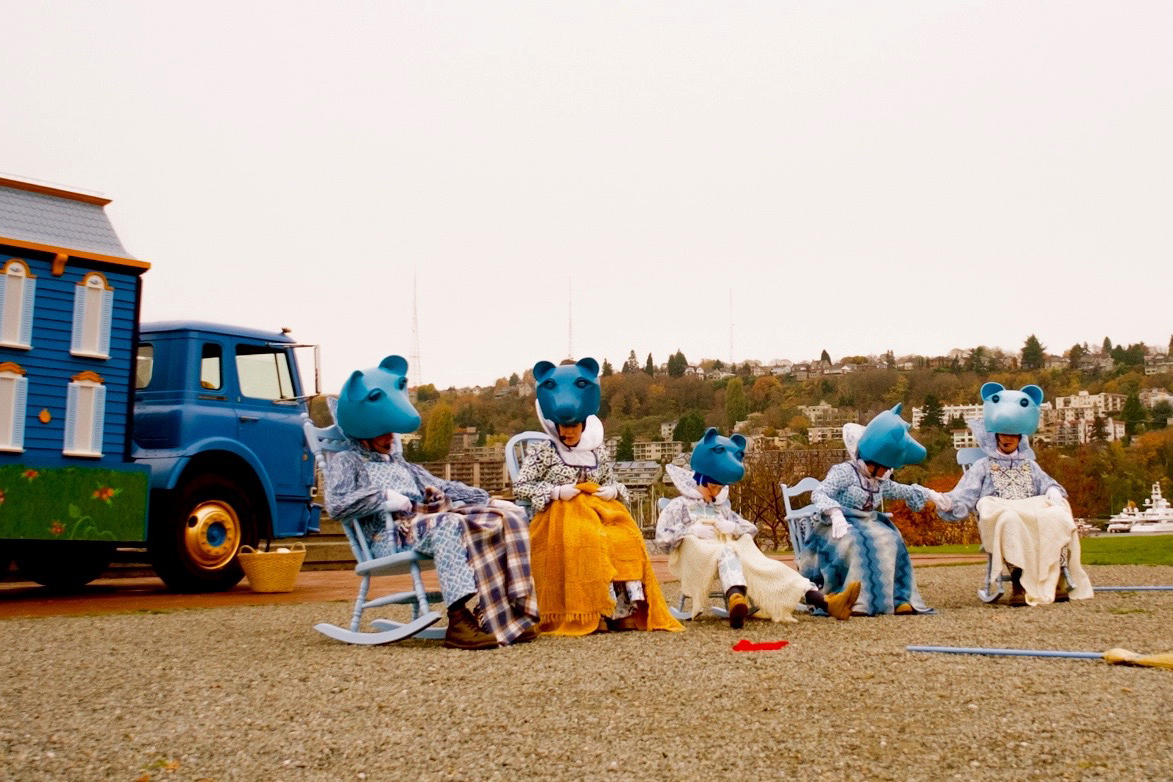 Creative Collaborators: Lucia Neare, Eric Holden, Karen Lewis, Jan Wallace, Matt Goodrich, Cathy Madden, Omar Ramos, Candace Frank, Mark Haim, Justice Beitzel, Jessica Jobaris, Kristen Hapke, Scott Jennings, Stacey Hansen, Peter Holden, James Ball, Lia Stamatiou, Darcy Thompson, Jacqueline McNamara, Toby Hanson
Performers: Scott Abernethy, Julia Beers, Justice Beitzel, Robin Campbell, Sarah Hartley, Lorraine Lau, Christine Longe, Christl Marcontell, Casey Matteson, Winfield Hobbs, Esme DeCoster, Parlin Shields, Daniel Stoltenberg, Hendri Walujo, Kaitlin Ziehr
Musicians: Dwight Beckmeyer, Brandon Vance, Claude Ginsberg, Holly Eckert, Lucia Neare