Ooo La La! A May Day Spectacular
Ooo La La! A May Day Spectacular began with the question "What would happen if we put love in the air in Downtown Seattle, even for a couple of hours?" The work transformed Seattle's urban core into a grand corridor of joie de vivre, drawing thousands into a world of inclusive elegance. The free, unabashedly celebratory performance activated many miles of Seattle's civic landscape. Ten-foot-tall Dancing Cakes sashayed through intersections, Poodle Dancers blew kisses from Model T automobiles putting across downtown, troupes of flirtatious Marie Antoinettes festooned windows along First Avenue, a procession of champion-pedigree poodle May Queens promenaded through Pike Place Market, and a parade of 150 Lindy Hopping Baker Dancers handed out gifts of cakes and giant golden eggs. People from all backgrounds were invited to let go of the mundane and pass through the veil of their imaginations into a world of surreal delights.
Approximately 3,000 people attended Ooo La La!'s main performance. Portions of the work were experienced by tens of thousands of Seattleites throughout downtown. Ooo La La! was the largest piece of free theatre ever seen in Downtown Seattle, and is now a part of the city's cultural mythology.
Ooo La La! was commissioned and supported by 4Culture, the Site-specific Performance Network, GGLO Architects, and SAFECO Insurance.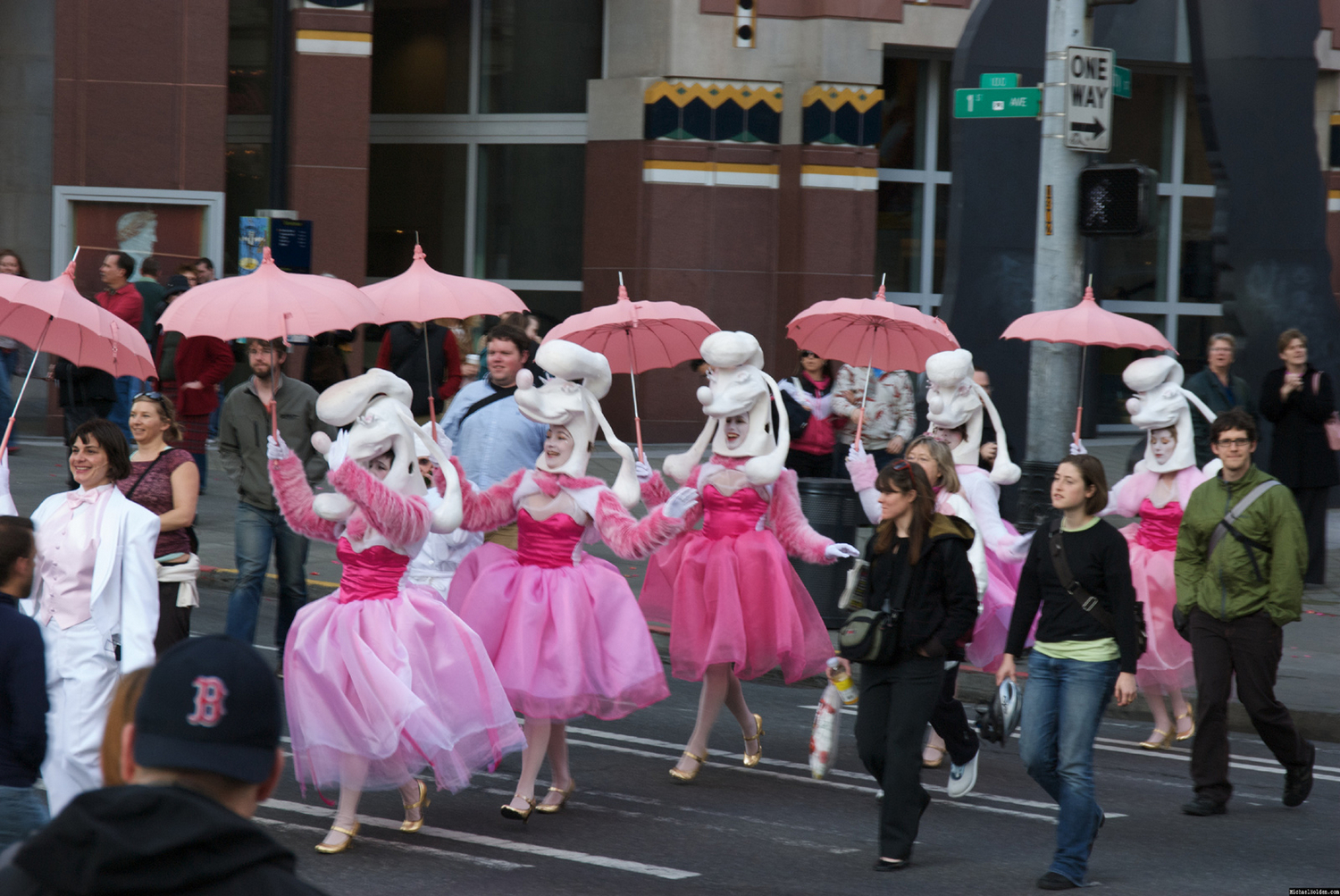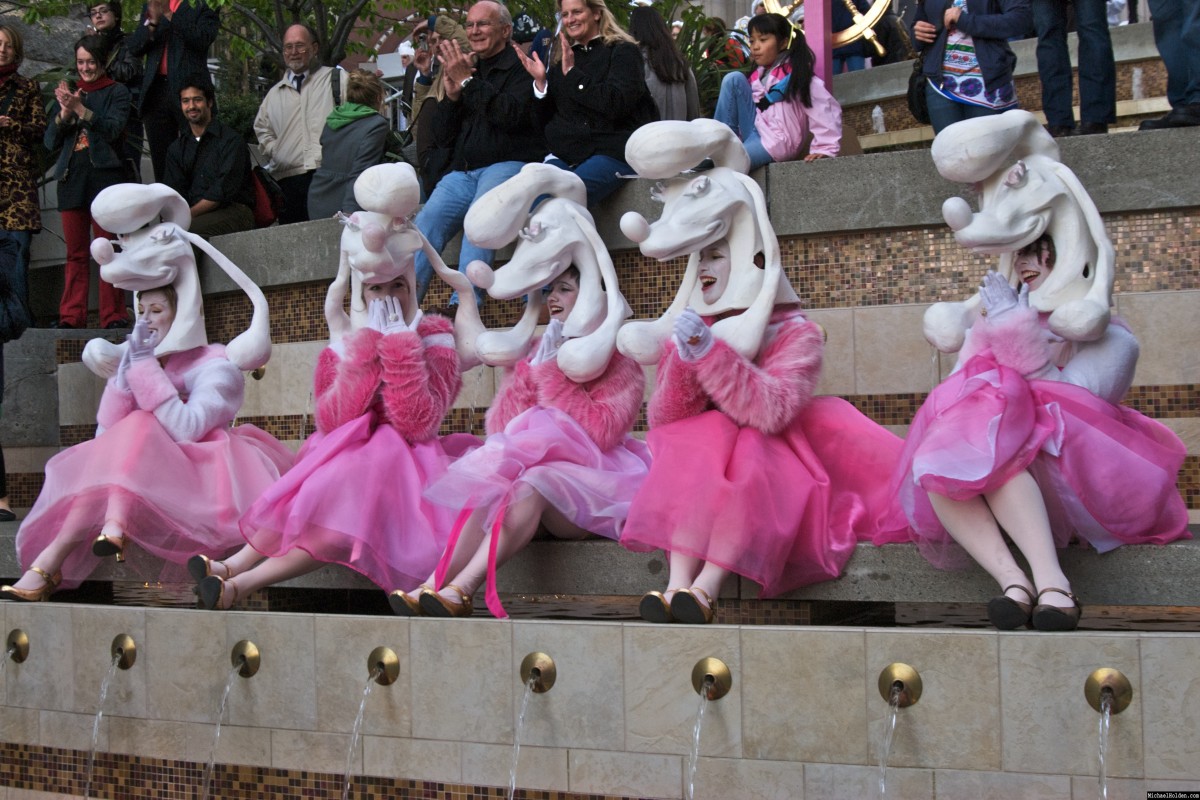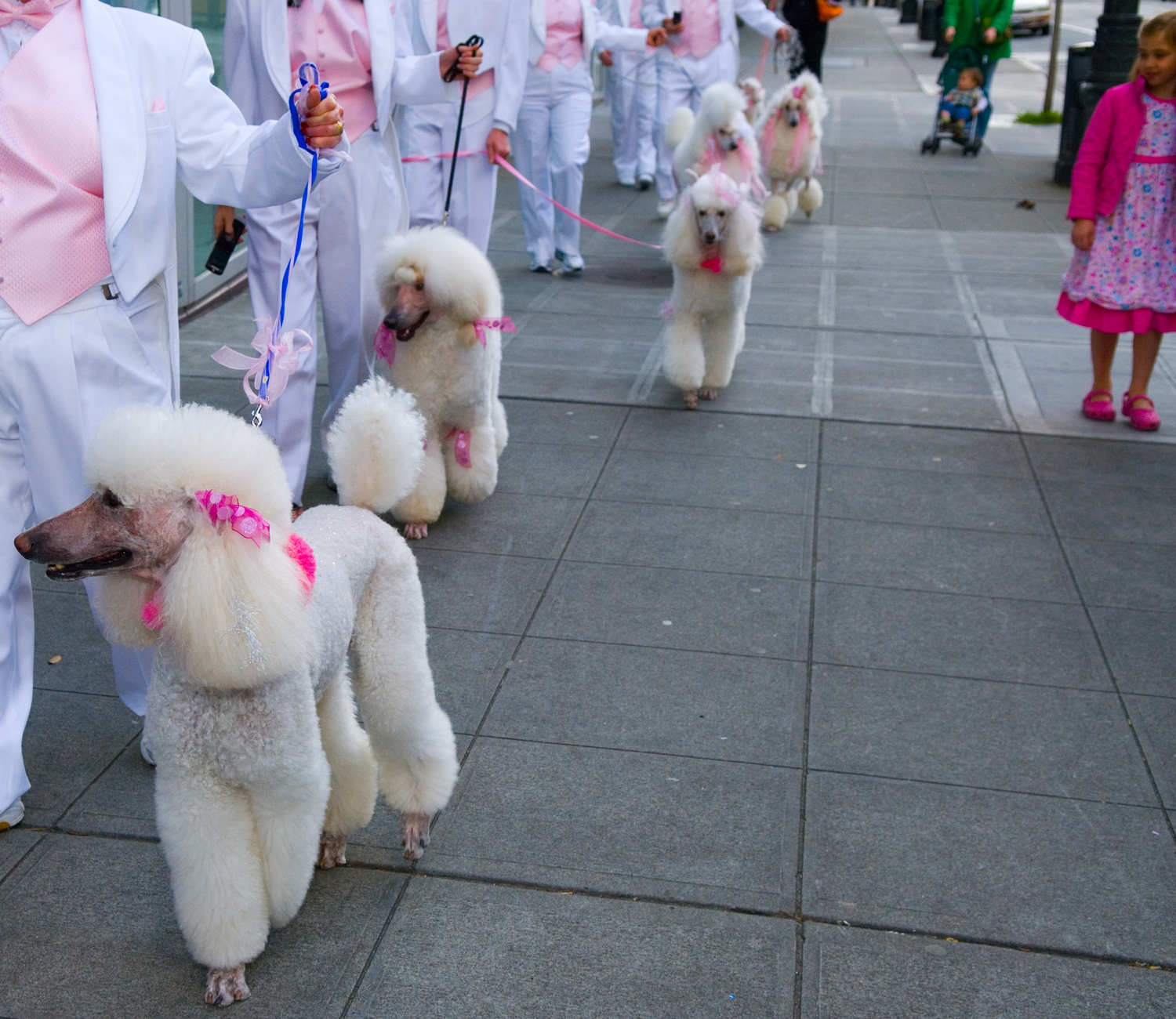 Creative Collaborators: Lucia Neare, Cathy Madden, Jessica Jobaris, Matt Goodrich, David Verkade, John Small, Stacey Hansen, Guy Caridi, Winfield Hobbs, Toby Hanson, Sam Elias, Patrick Rogers, Rob D'Arc, Dean Paton, Al Barnes, the Century Ballroom
Musicians: Waltz Cafe Orchestra, Dean Paton, Toby Hansen, Thomasa Eckert, Lucia Neare, Igor Keller, Greg Williamson, Mike West, Al Keith, Greg Schroeder, Clark Gibson, Travis Ranney, Marc Smason, Buddy Mahoney, Lisa Branham, Winfield Hobbs, Del Ray
Performers: Lila Hurwitz, Whitney Lawless, Sarah Parton, Cody S. Strauss, Naomi Russell, Lucia Neare, Tova Jean Steele, Jens Wazel, Jasmine Zimmerman, Christine Longe, Katie Kovacich, Winfield Hobbs, Ryan Barret, Jack Hilovsky, Linden Ontjes, Buddy Mahoney, Lisa Branham, Lynne Daphne Powell Compton, Llysa Holland, Beth Wade, Ainslee Ericson, Phil Lacey, Jesse Roth, Theresa Ballew, Gigi Gulhan, Alyssa Haas, Laura Ann Kimball, Jenna Bean Veatch, Ivy Branin, Chase Hager, Anna Mulia, Vaiva Palunas, Toni Emerson, Karry Fefer, Katrina Goeke, Barbara Fugate, Sharon Antoinette O'Mahony, Linda Kokanovich, Candice Stephens, Guy Caridi, Elanor Sidman Lange, Winfield Hobbs, Gwen Rivera, Michael Wendt, Deirdre Africa, plus members of the Savoy Swing Club